Wie even vlug een vuurtje moet aanmaken (een tuinhaard of een barbecue) en geen papier meer kan vinden omdat het juist papierslag is geweest moet niet meteen wanhopen. Er is ook nog droogkast pluis!
Je moet je filter van je droogkast sowieso regelmatig schoonmaken (elke keer) dus kan je nu van een noodzaak een deugd maken. Open je droogkast en grijp het pluis van de filter.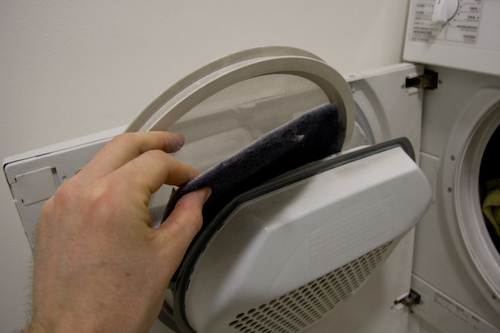 Wat kunnen we hier nu mee doen? Een demonstratie:

Je neemt een stuk van het droogkast pluis en plukt het open. Je legt het daar waar je een vuurtje wilt maken en neemt je FireSteel. Een paar keer schrapen met de schraper en je hebt vuur. Zo simpel is dat.
Ok, in een overlevingssituatie heb je waarschijnlijk geen droogkast pluis bij je, maar je zou dat ook kunnen bekomen door aan je sokken of blouse te plukken (van waar komt dat pluis anders denk je?). Ook geeft het nog maar eens weer hoe brandbaar die spullen zijn en dat een klein vonkje genoeg is om het te doen ontbranden. Dat kleine vonkje kan ook ontstaan door statische elektriciteit. Altijd je filter van je droogkast schoonmaken dus!