Dryer lint makes excellent tinder. You have to clean your dryer's filter anyway, and instead of throwing the lint away you could save it to use it as tinder. Put some of it in your emergency readiness or use it to light your BBQ.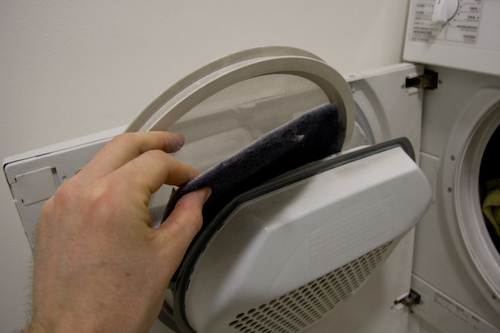 Now how does this work? I'll give you a small demonstration.

Take a piece of dryer lint and tear it apart. Try to make it as light as possible. Take your firesteel and after a few strokes you have your fire. Be careful not to inhale the fumes as they could be poisonous due to the type of materials used for your socs or t-shirts.
Even though you might not have any dryer lint with you in an emergency situation, you can always make some by pealing off little peaces of fabric from your socs or blouse. This video also indicates that dryer lint is highly flammable and can be ignited with only a few little sparks. Those sparks can also be the result of static electricity, so be sure to always clean your dryer and remove any lint from it's filter.