Via Slimweg.be kan je je volledige route laten bepalen, zowel te voet, met de fiets, de trein, tram of bus. Zo moet je dus (zoals zij zelf zeggen) geen 37 sites meer raadplegen om de voor jou meest geschikte route uit te stippelen.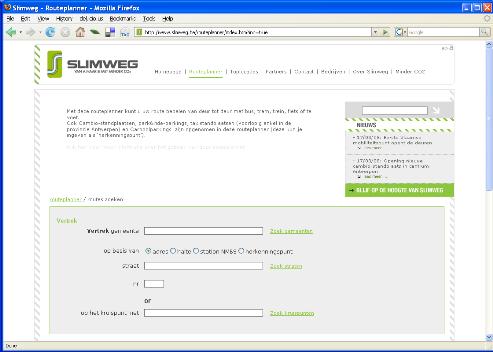 Super concept. Vooral als je eens ergens moet zijn in "the middle of nowhere". Je kan ingeven wanneer je wil vertrekken of wanneer je wil aankomen, welke vervoersmiddelen je wil gebruiken en of je zo snel mogelijk of zo gemakkelijk mogelijk op je bestemming wil geraken.
Het opzoeken via herkenningspunten is ook zeer leuk. De meeste scholen, musea en openbare plaatsen zijn hierin opgenomen.
Alleen jammer dat de site niet zo slim werkt als het concept. Wanneer je een route wil laten bepalen op basis van adres, dan ben je verplicht om te klikken op "zoek gemeente", "zoek straten" of op "zoek kruispunten". Daarna moet je een van de zoekresultaten kiezen en je route laten berekenen. Wanneer je het niet zo doet, en de tekst dus gewoon intypt, werkt het gewoon niet. Zelfs niet wanneer je alles intypt zoals het eruitziet via het opzoeken. Het lijkt er even op dat de route wordt berekend, maar er wordt niets getoond. Het heeft dus niets te maken met het gebruik van hoofdletters of dergelijke.
Spijtig, want de eerste keer toen ik het probeerde, net na de lancering, dacht ik dat het totaal niet werkte. Pas vorige week probeerde ik het opnieuw, want ik moest en zou weten wat er verkeerd liep. Zag ik iets over het hoofd? Of werkte het echt gewoon niet?
Voor de rest werkt alles wel goed, en zijn de voorgestelde routes correct. Alleen jammer dus dat je soms wat moet proberen eer je een route te zien krijgt.
UPDATE
Nog een reden om deze tool niet blindelings te vertrouwen. De database van Slimweg.be is niet up-to-date met de info op nmbs.be. Op 7 april verandert de dienstregeling voor een hele reeks treinen. Die wijzigingen zitten nog niet in Slimweg.be (zie screenshots). Maar misschien moeten we niet te kritisch zijn en wachten tot het 7 april is…