Een kleine maand geleden kreeg ik van Nokia een pakje toegestuurd. Het was een Nokia C6 en ik mocht hem een maand lang testen. De Nokia C6 is een Symbian smartphone met een uitschuifbaar klavier waarbij het gebruik vooral gericht is op het in contact blijven met je vriendenkring en de wereld.
Wat mij meteen opviel toen ik de doos uitpakte, is de stevigheid die het toestel uitstraalde. Dit toestel voelt lekker solide aan. Wanneer het ingeklapt is zie, of voel je niet meteen dat er nog een volledig azerty toetsenbord onder verstopt zit.
Het eerste wat ik doe na het inschakelen van het toestel is een foto nemen. Dat gaat heel gemakkelijk dankzij de externe hardwarematige ontspanknop. Je kan veel zeggen en schrijven over touchscreen toestellen, maar wanneer ik een foto wil nemen druk ik liefst op een echte knop. Ook de ont- en vergrendel-knop in het midden van het toestel weet mij onmiddellijk te overtuigen: dit is een handige optie. Zij die het niet zo geweten hebben op knoppen kunnen het toestel ook ontgrendelen door iPhone-gewijs met het vingertje van rechts naar links over het scherm te vegen.
Het configureren van je email en het synchroniseren van je contacten en agenda verloopt heel vlot. Binnen het kwartier nadat ik de telefoon uit de doos haalde kon ik emailen, mijn agenda bekijken en eender wie uit mijn telefoonboek bellen. Ik was klaar om de wijde wereld in te trekken.
De wijde wereld van het www:

Typen op een uitgebreid azerty keyboard heeft zijn voor een nadelen. Enerzijds gaat het bijzonder snel, maar aan de andere kant moet je je toestel dan wel met twee handen vastnemen. Iets wat ik in het verleden al hekelde aan touchscreen smartphones met een resistief scherm (die met een pennetje dus).
Snelle tekstinvoer: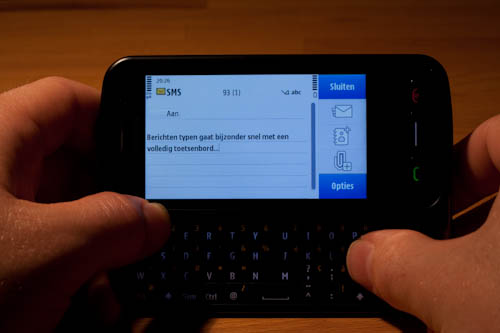 Uiteraard hoef je niet steeds het scherm uit te klappen om het toestel te bedienen. Alle functies in de telefoon zijn ook te gebruiken zonder het keyboard. Wanneer je dan wat moet invoeren verschijnt er een onscreen toetsenbord, met een indeling naargelang het type invoerveld.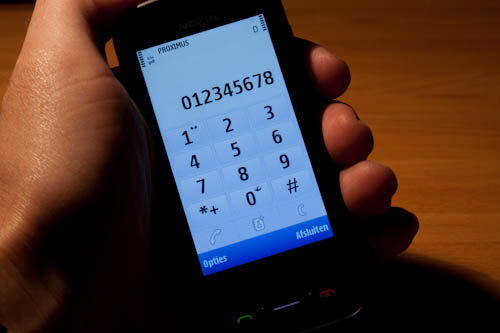 Een ander troef van het toestel is dat je je eigen favoriete hoofdtelefoon kan gebruiken. De Nokia C6 beschikt over een 3.5mm jack schoentje zodat jij kan bepalen wat je in of op je oren zet. De interne speakers doen het trouwens ook behoorlijk goed waardoor de C6 zelfs prima kan dienstdoen als internetradiootje.
Verder kan je eens je een account hebt aangemaakt applicaties (al dan niet betalend) downloaden van de Ovi store. Zoek je ontspanning in de vorm van een game of heb je nood aan een toepassing om te tweeten: het zit in de Ovi-store. Al is er wel een groot verschil qua aanbod vergeleken met de iPhone en Andoid Market.
De gps met meegeleverde kaarten heb ik niet uitvoerig kunnen testen. In mijn auto gebruik ik de ingebouwde gps en tijdens het geocachen mijn Garmin Etrex. Al wist de gps mij wel te vertellen dat ik mij op een niet gedigitaliseerde weg bevond toen ik tot aan mijn knieën in de modder op het punt stond mijn geocache-zoektocht te staken. Dat hij mij ook tot aan de cache zelf had kunnen brengen ontdekte ik thuis pas nadat ik alle opties eens doorsnuffeld had.
Voor wie graag een fysiek toetsenbord heeft, en verder vooral wil bellen, sms'en en emailen, is dit een ideaal toestel. Moest ik zelf een nieuwe gsm moeten kopen, de Nokia C6 zou zeker en vast tot de opties behoren.