Beste treinbegeleider. Kijkt u eens goed naar onderstaande afbeelding.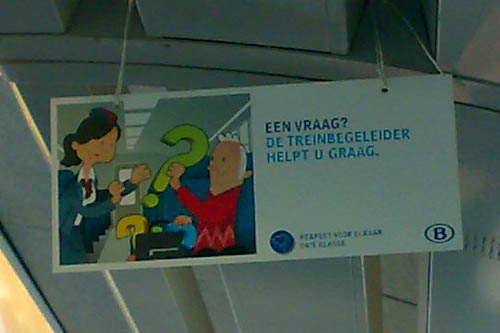 Een Vraag? De treinbegeleider helpt u graag.
Wanneer treinen afgeschaft worden en andere treinen vertraging hebben, antwoord dan niet botweg "Ik weet dat niet" wanneer iemand u bij het instappen vraagt of er in het volgende station een trein staat die aansluiting geeft naar een bepaalde bestemming.
Wanneer u tijdens de controle van de vervoerbewijzen opnieuw diezelfde vraag krijgt, antwoord dan niet "Dat weet ik niet. Hoe moet ik dat weten? Gij hebt mij dat nogal gevraagd bij het instappen. Toen wist ik het ook niet. Dat heb ik u al gezegd"
Wanneer we u vragen om het even op te zoeken of om even te bellen, antwoord dan niet "Hoe zou ik dat wel kunnen opzoeken? Naar wie moet ik dan wel bellen?"
Wanneer we u erop attenderen dat uw antwoorden nogal klantonvriendelijk zijn, dreig er dan niet mee om ons uit de trein te zetten om zo onze reis te voet verder te zetten.
Hoe denkt u over te komen wanneer u tijdens het verdere verloop van onze discussie telefoon krijgt van Traffic Control, die bevestigd dat er in het volgende station een trein op ons wacht, en u vervolgens super beleefd en onnodig uitgebreid de overige reizigers via de intercom inlicht?
Wanneer u nog eens zo een vraag krijgt, antwoord dan gewoon: "Ik weet het niet, maar ik zal met mijn IBIS toestel even de uurregeling raadplegen. Moest het zijn dat we net niet op tijd aankomen, dan zal ik naar Traffic Control of de stationschef bellen, om te vragen of het mogelijk is om die trein even te laten wachten." Dàt is toch een veel mooier en klantvriendelijker antwoord.
We hebben allemaal geluk gehad dat wij niet zo een korte lontjes hebben als u. Anders hadden uw collega's weer eens moeten staken…