De HTC Touch Diamond beschikt enkel over 4GB intern geheugen, en heeft geen uitbreidingsslot voor extern geheugen in de vorm van SD of micro SD kaartjes. De HTC heeft wel een mini usb poortje, en daar moet toch wat mee aan te vangen zijn.
Ik heb dus even wat bij elkaar geraapt:


De HTC Touch Diamond, een mini USB B mannetje naar een USB A vrouwtje en een 2GB Sony micro Tiny Vault
We steken de geheugenkaart in de USB adapter.

En de adapter, met geheugenkaart, in de HTC.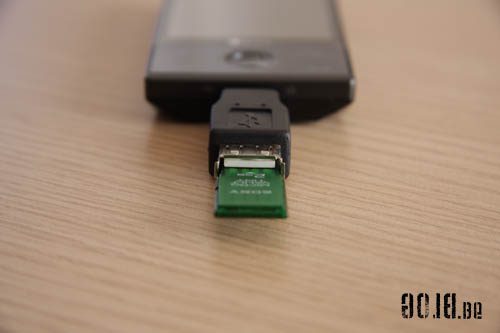 En tadaaaa: Extern Geheugen in een HTC Touch Diamond!

Ok, knipper maar eens allemaal goed met uw ogen, want het één is niet het gevolg van het ander. De foto's die u ziet, die zijn echt. Daar is niets aan gemanipuleerd. Het scherm van de HTC, dat is ook echt, daar is ook niets aan gemanipuleerd. Maar hetgeen getoond wordt op het scherm van de HTC is een JPG. Een screenshot die ik een beetje heb aangepast. Het is immers voorlopig nog niet mogelijk om de USB poort van de HTC Touch Diamond als host te gebruiken. Daardoor kan je er ook geen randapparatuur zoals toetsenbord, geheugen of muis aan aansluiten.
Via WMPowerUser.com had ik gelezen dat HTC zelf een soort USB connector gebruikt om hun toestellen te flashen, zonder daarvoor een computer te moeten gebruiken. Door tijdens het opstarten een bepaalde toetsencombinatie ingedrukt te houden zou je met die USB Y kabel het toestel kunnen flashen met de ROM die op een apart SD kaartje staat. Dat lijkt dus sterk op een USB host. Alleen zit er aan het andere einde van die USB kabel ook een externe voeding, iets dat niet nodig zou zijn bij een echte USB host, want die levert zelf stroom aan zijn gehoste toestellen.
Verder zijn er nog een aantal XDA-Developers bezig met experimenteren met USB kabels en drivers, alleen is de thread niet meer aangevuld sinds begin deze maand. Het ziet er in elk geval naar uit dat er speciale drivers nodig zijn om van de USB poort van de HTC Touch Diamond een host te maken. En die drivers, die bestaan voorlopig nog niet, of zijn alleszins niet publiekelijk beschikbaar.