I just finished another very small DIY project, which I want to share with you. I made an adjustment to an ordinary ammo box so you can lock it.

Things you need: an ammo box, a u-bolt, some screws-nuts, whashers and a lock. Furthermore you'll need a drill an a file.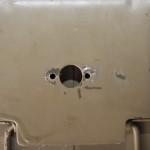 First we mark the spots where we want to drill the holes. We'll use a puncher to make little dimples to give the drill a starting point and some better grip. We'll keep the lid of the ammo box closed, and we'll drill through the lock and the ammo box in once. So we're sure the holes are perfectly alligned.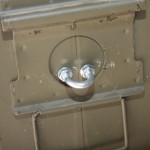 How I do it, I don't know. But I always manage to srew things up when I'm trying to make / break something when I'm using a drill. One attention point for me (and also for you) the center of the hole you're going to drill needs to be a little further away than 1/2 diameter of your drill from another hole. If this is not the case you'll end up with a hole that looks like the right hole and you riks your drill will get stuck and hurt yourself. So the left hole is ok, the right hole could be better.
Now we screw two screw-nuts on the u-bolt and add two washers. We stick the u-bolt in the two drilled holes, put two washers and screw-nuts on the other end of the u-bolt and tighten them.
Close the lid and the u-bolt appears. You can use a file if things are not closing smoothly.

Tadaa: an ammo box with a lock.