Naar een voorbeeld van Julian OH8STN (oh8stn.org) heb ik ook een 12V 10Ah LiFePO4 (Lithium-ijzer-fosfaat) in elkaar geknutseld.
Moeilijk is dat eigenlijk niet, je moet kunnen internetten, e-shoppen en solderen. Qua vaardigheden heb je er dus niet al teveel nodig.
De cellen zelf zijn Headway 38120s cellen waarbij de "s" staat voor "schroef". Je kan doormiddel van een schroefaansluiting de cellen met elkaar verbinden om zo de nodige capaciteit of spanning te bekomen.
Ik heb mijn 38120s' gekocht via AliExpress. Na iets meer dan een week werden ze aan huis geleverd. Het moet niet altijd lang duren als het van China komt.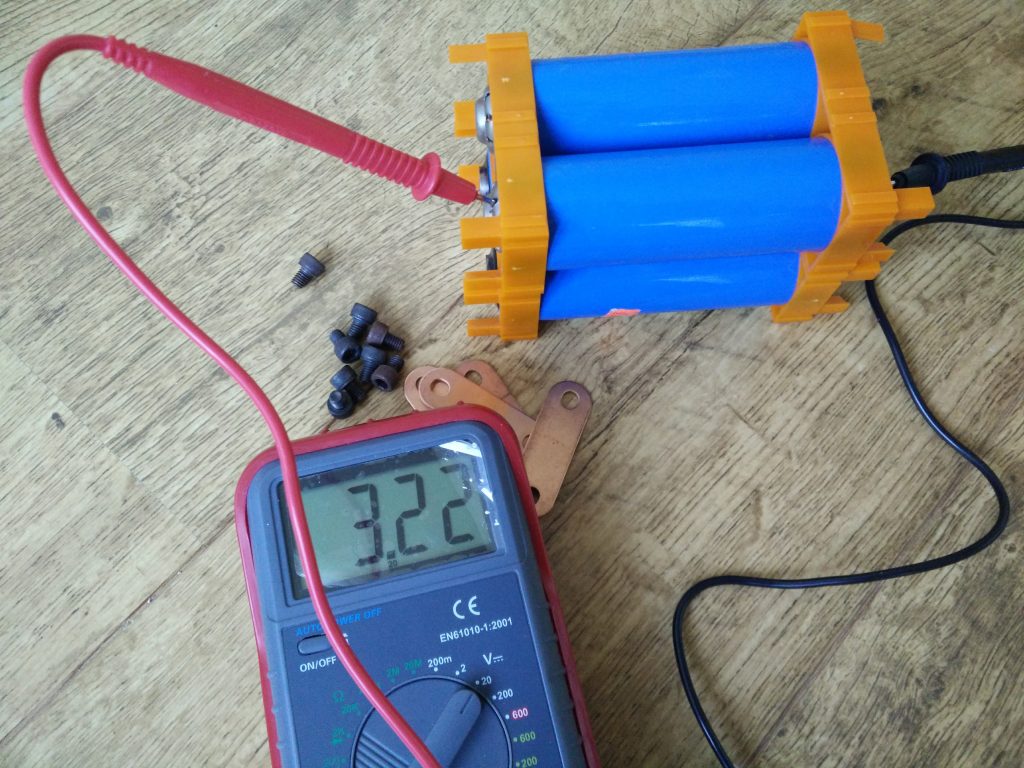 Bij aankomst meteen gecontroleerd of alle cellen nog werkte, en dat was het geval. Elke gaf een waarde van rond de 3,22 V.
De eerste keer heb ik de 4 cellen apart opgeladen, het BMS (battery management system) was nog niet aangekomen. Dit BMS zorgt erniet allen voor dat de 4 cellen gelijkmatig belast en ontladen worden, het zorgt er ook voor dat ze gebalanceerd worden opgeladen en beschermt zijn tegen overspanning, onderspanning, overcapaciteit en ondercapciteit. Je kan er zonder, maar mét is veel veiliger.


via AliExpress
Na wat geknutsel met de draad, soldeersel en powerpole-connectoren was de batterij klaar. En kon ze getest worden. Ik heb er twee uur WSPR bakens mee verzondenden (20% TX), een uurtje of twee de band afgedraaid en een paar QSO's gemaakt met de Yaesu FT-857-D met 75W, en dan nog een uur of twee de 2m band gescand. En toen werd de batterij uitgeschakeld.

Een van de drie cellen was onder de 2,8V gezakt, de rest stond nog op 3,1V. Normaal gezien zou dit nog voldoende moeten zijn om de FT-857-D te laten werken, maar de BMS gaf maar 4,5V meer door. Onbelast ging er wel nog 12V naar de uitgang. Hoe dat juist in elkaar zit moet ik dus nog eens uitpluizen.
Het volledig filmpje met instructies van Julian OH8STN kan je hieronder zien:

Op dit moment is de batterij terug aan het opladen, via de BMS aangesloten aan mijn 20A voeding. Regelmatig controleer ik de totale en de afzonderlijke cel spanning. Tot nu toe ziet het er nog allemaal goed uit. Wordt vervolgd, want het is de bedoeling dat ik er nog een solar charge controller en een zonnepaneel aan toevoeg. Op die manier beschik ik altijd over een beperkte, doch goed bruikbare hoeveelheid energie om mijn zend- en ontvangstapparatuur te doen werken.